Incentive
Travel Advisors earn 10% commission on all guest bookings
No blackout dates for commission.
Valid IATA number required.
Additional 13% GST & 10% service charge paid by guest are non-commissionable.
Commissions paid in US dollars via ach or wire transfer within 15 to 30 days of guest checkout.
To book, please contact: email reservations@tranquilitybeachanguilla.com / Tel: +1 264-462-6000
Agent Rates
Agent Rates available from May 1 to December 20, 2023 and May 1 to December 20, 2024
Offer for professional travel advisors/agents for their own travel use. Agent must be staying in unit.
Excludes week of Thanksgiving 2023 and 2024
Excludes week of Fourth of July 2023 and 2024
Excludes week of Memorial Day US 2023 and 2024
Resort closes for 10 days in late September/October for annual maintenance
OFFER: 10% off standard nightly rate for a one- or two-bedroom suite or three-bedroom penthouse villa - cannot be combined with any other promotions.
If public promotion is in place at a better rate, the agent can book the best of the two offers. For example, we are currently running a 15% off promotion for select dates. The agent would get 15% off, instead of 10% off our standard rate.
Rates and minimum stay requirements vary by season and unit.
Additional 13% GST and 10% service charge.
All rates in US Dollars
Valid IATA number is required.
50% deposit before GST/service at time of booking, balance due 60 days prior to arrival.
100% refund if cancel 60 days or more prior to arrival.
Offer subject to change at any time.
HOW TO REDEEM: email reservations@tranquilitybeachanguilla.com. Can request/book up to 12 months in advance of stay dates with minimum two-day notice. Resort will confirm and send online agreement/invoice for agent signature with secure link to collect credit card information.
Stays subject to resort/unit availability.
About
Welcome to Tranquility Beach Anguilla
Opened in 2020, Tranquility Beach Anguilla is Anguilla's newest resort and perfect for solo travelers, couples, families, friend getaways and more. Our toes-in-the-sand oasis is ideally located in the center of Meads Bay Beach, which was recently named among the World's 50 Best Beaches 2023. Tranquility Beach has earned the Tripadvisor Travelers' Choice Award for both 2022 and 2023 based on exceptional guest reviews – placing us in the top 10% of all Tripadvisor listings globally. Guests enjoy a hybrid villa/hotel vacation experience in 15 luxury retreats – most with incredible beachfront or ocean views. Each of the one- and two-bedroom suites and our spectacular three-bedroom penthouse villas feature an outdoor terrace with private hot/cold tub, as well as full kitchen, central air conditioning, Wi-Fi, and washer/dryer. There is also a resort gym and free, onsite parking.
Walk down the beach to Anguilla's top West End restaurants Jacala, Blanchards, Blanchards Beach Shack, Straw Hat and Ocean Echo, stop in for dinner or a drink and live music at Savi Beach Club, Four Seasons Sunset Lounge or Malliouhana's Leon's, or enjoy a massage onsite or at a nearby full-service spa. World class golf and the Blowing Point Ferry Terminal are a 10-minute drive away, and the Anguilla airport is a 15-minute drive. Many of our guests skip renting a car, because there is so much close by, but Anguilla is safe and easy to explore and Meads Bay is the perfect jumping off point for excursions.
Tranquility Beach's intimate size and exceptional staff ensure guests receive personalized attention. Our property manager has decades of experience with Auberge Resorts in Anguilla and Napa Valley. Our concierge team is at you and your guests' service before you arrive and throughout your stay and our housekeepers keep things sparkling.
Our award-winning beach butlers are on the beach daily and beer, wine, soft drinks and handcrafted cocktails are available for purchase on the beach. Guests rave that our Beach Supervisor Sam makes the best rum punch and frozen mojito's they've ever tasted. Sam grows his own fresh mint onsite and is known to surprise guests with a sorbet popsicle afternoon treat.
Resort Amenities & Services:
Welcome rum punch and chilled towel at arrival.
First day's beer, water and soft drinks in unit fridge – can be replenished at additional charge.
Fresh pastries first morning.
Cushioned beach chairs with umbrellas.
Beach butlers at your service. Handcrafted cocktails, beer, soft drinks and wine available for purchase.
Beach towels, water, sunscreen and sand toys provided at the beach.
Beach volleyball, badminton, bean bag games, footballs and soccer balls – butlers will set up.
Resort gym with ellipticals, treadmills, bikes, hand weights, yoga mats and more.
Wi-Fi and Convenient onsite free parking.
Property Manager – decades of experience with Auberge Resorts in Anguilla and Napa Valley.
Concierge team – can assist with arranging car/van rentals, taxi/van service from airport or ferry terminal, boat transfers, excursions, restaurant reservations, tee times, grocery stocking, onsite massage, childcare and more – additional charges may apply. Onsite during the day and also available via WhatsApp chat.
Daily housekeeping and overnight security.
Resort robes, toiletries, slippers, umbrellas for guest use during stay.
Coffee, tea and laundry detergent provided.
Paddleboards and kayaks can be rented for additional charge nearby.
Cribs, high chairs can be rented.
Special occasion amenities can be organized (balloons, florals, beach dinner, birthday/anniversary cakes, etc.) – additional charges apply.
About Anguilla
Anguilla is a British Caribbean island tucked away in the Eastern Caribbean. You can arrive in Anguilla by boat or airplane. Direct flights are available from Miami on American Airlines, as well as neighbor St. Maarten, Antigua, St. Barth's, Puerto Rico, Dominican Republic and St. Thomas. Most guests fly into international gateway St. Maarten (SXM) and then take a 25-minute shared sea shuttle or 8-minute local, Anguilla Air Services flight to Anguilla. Pro Tip: When searching flights, treat it as two separate legs - one trip to SXM and a second trip to AXA. You'll find more flights, better times and less expensive options. Our concierge can arrange boat and air transfers for you, as well as taxi or rental car. Anguilla offers 35 square miles of magic and a full range of land and sea recreation including golf, tennis, boating, fishing, snorkeling, hiking, sailing, fishing and paddleboarding, as well art galleries, full-service spas and cultural activities such as harvesting salt from a natural salt pond. The island has earned the title of Culinary Capital of the Caribbean. There aren't any chains or all-inclusive resorts, just 100 bespoke restaurants offering the freshest produce and seafood. You don't have to be a guest staying at a particular resort to dine at the resort's restaurants. All 33 beaches are public, making Anguilla a beach hoppers dream. Anguilla is safe to explore on your own, unspoiled by cruise ships and has the most welcoming people. In Anguilla, you can enjoy uncrowded beaches, live music every night, natural beauty, luxe accommodations and service, and a low-key, relaxed vibe. The island has good Wi-fi and telecom services for remote work, English is the primary language and US dollars, Mastercard and VISA are widely accepted.
Tranquility Beach Anguilla 3 Bedroom Penthouse Villa Video Tour
Watch our latest webinars
Watch the recorded webinars from Tranquility Beach Anguilla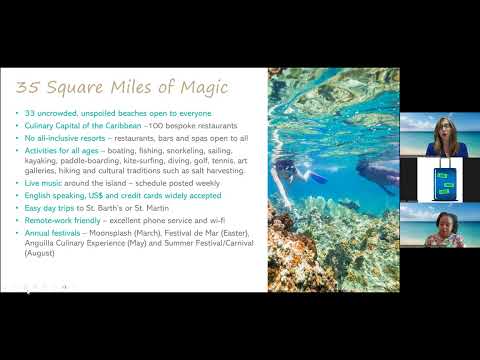 Tranquility Beach Anguilla
October 03, 2023
Your Clients' New Favorite Place…Tranquility Beach Anguilla
Anguilla is a natural beauty with a welcoming smile, 33 beaches kissed by turquoise waters and over 100 bespoke restaurants. Experience the best of Anguilla's upscale hospitality and low-key vibe at Anguilla's newest boutique resort, Tranquility Beach Anguilla, on the island's most beautiful beach, Meads Bay Beach. Get to know our toes-in-the-sand oasis where solos, couples, families and groups enjoy the comforts of home, the space of a villa and our award-winning 5 star service. We'll also cover how to get to Anguilla, when to visit, and to see, do and eat.
Watch Now